GCE Welcomes New, Second President of its Organization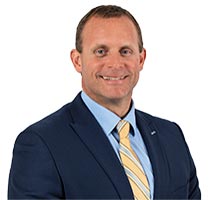 Pensacola, Fla. (March 17, 2020) – Global Connections to Employment (GCE) an affiliate of Lakeview Center, Inc., recently welcomed a new leader into the role of president. Xan Smith became the organization's second president in its 40-year history.
Xan brings with him more than 20 years of leadership experience at both not-for-profit and for-profit companies. He is driven by his belief in the Mission of Helping People throughout Life's Journey. GCE helps connect people with disabilities to job training and career placements. The organization manages military and business contracts to provide a broad array of services in which people with disabilities can work in meaningful jobs and sustain their independence. Employees work in areas such as mail distribution, document management, mail center operations, clerical support services, contact center operations, food services, health care housekeeping, IT and custodial services. The GCE corporate offices are located in Pensacola, Florida, but manages work contract sites in multiple states and the District of Columbia.
Xan joined the Lakeview Center organization in April of 2015 serving as its chief financial officer. He was responsible for administrative support areas including accounting and finance, information services and client business services, as well as facility operations and emergency management.
Xan earned a Bachelor of Arts in Management with an emphasis in Finance from Wittenberg University, Springfield, Ohio, where he was named a first team All American by the American Football Coaches Association. Learn more at GCE.org.