GCE Names Person with Disability Employee of the Year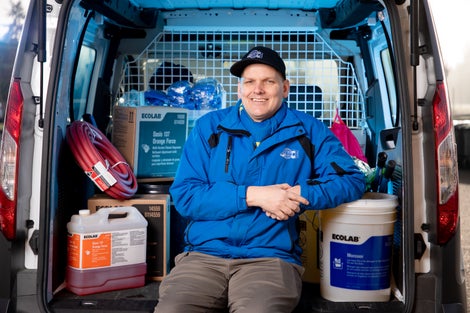 Pensacola, Fla. (March 1, 2019)–Global Connections to Employment (GCE) has selected Matthew "Matt" Amendt as the 2018 Employee of the Year. Matt was chosen from a pool of approximately 1,700 employees who work at sites across the nation.
Matt's ADHD diagnosis inhibits his focus and concentration for long periods of time. Into his 30s, he was working odd jobs because his he couldn't hold down a steady position. Then, he discovered an opportunity with GCE, and he applied for a job at Joint Base Lewis-McChord - Washington.
Today, despite the challenges of his disability, he's experienced several promotions. He started as a dining room attendant in 2010, then became a shift leader and two and a half years ago was promoted to supply clerk. Matt's job has taught him about purchasing, accounting, and working with others.
The GCE Mission is to help people Like Matt throughout their life journeys. The corporate offices are located in Pensacola, Florida, but the agency manages work contract sites in multiple states and the District of Columbia providing jobs to people with disabilities. Read Matthew's full story at GCE.org > successes.