Children, Domestic Violence and Courage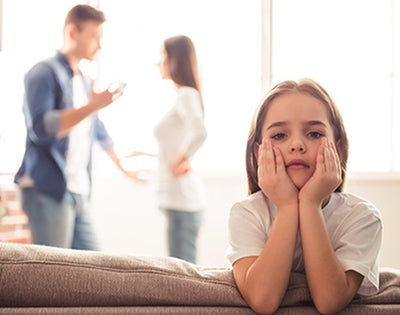 - 10/04/2021
It's difficult to start an article like this one with a positive statement, but let us begin with: change starts with one person, and change is possible. You can help improve an ominous statistic. Keep reading, and we'll explain.
Domestic Violence is a common problem in the United States. It affects about 10 million people every year. According to the National Institutes of Health (NIH), one in four women and one in nine men are victims of domestic violence, and it happens to adults, children and the elderly. Unfortunately, 40% of victims never report it, and it can be difficult to identify. Children are some of the most vulnerable, and all victims fear for their lives.
This form of violence can have devastating effects on children. They may not understand what's going on, but make no mistake, they "feel" it. Perpetrators often hurt loved ones, including pets, as a way to gain control of children in the home. Vice versa, they also hurt children to control spouses in the home. According to the Childhood Domestic Violence (CDV) organization, in homes where domestic violence occurs, there is a 45 to 60% chance that there is co-occurring child abuse.
Numerous studies show that children who experience childhood domestic violence are at increased risk for a broad range of long-term challenges. The Adverse Childhood Experiences (ACEs) study lists domestic violence as one of the 10 major adverse childhood experiences considered to be defining in a person's life.
In the short term, children may become fearful, anxious, depressed, withdrawn, have difficulty paying attention, and feel powerless out of concern for themselves, their siblings, or a parent. Long-term, they may live with PTSD until they recognize and receive help. Even worse, some children who witness or experience violence at home are more likely to perpetuate the cycle of abuse in relationships into adulthood.
However, if a caring, trusted adult takes the initiative to speak with a child, that downward spiral can be prevented. Start early with age-appropriate discussions and examples.
Show instead of tell:
Give an example of a healthy relationship.
Describe boundaries in a positive relationship (i.e. no hitting, screaming, abandoning)
Explain who to talk to if they witness domestic violence. (i.e. teacher, grandparent, you)
Be that safe "go-to" person, and prove it by being available.
Some community partners (see resource below) have prevention programs that send experts out to speak to groups of students in middle and high school about these topics.
Other steps you can take to help adults and children:
Pay attention when you see these signs.
Talk to the child or adult and let them know you believe them.
Support survivors' in their decisions and encourage a feeling of empowerment.
Document everything you see (bruises, phone calls, missed work, perpetrator showing up at work/school).
Communicate. Have a password or signal for dangerous situations.
More than anything, have the courage to get involved. You don't need to put yourself in a dangerous situation or further endanger the victim. In fact, it's best to reach out to experts who know how to develop safety plans. They know how to work through a crisis.
Some helpful resources include:
Lakeview Center Victim Services 24-hour helpline 850.433.7273 (safety plan experts - Northwest Florida)
National Domestic Violence Hotline 800.799.7233
Abuse Reporting Hotline 800.962.2873
National Sexual Assault Hotline 800.656.4673
FavorHouse Northwest Florida Outreach 850.434.1177 (safety plan experts, counseling, prevention, and economic justice programs - Northwest Florida)
FavorHouse Crisis Line 850.434.6600. (24-hour line and shelter services - Northwest Florida)
This is where we come back to the positive part of this article. When you are courageous enough to get involved, you can empower a victim to become a survivor.