Jeremy Schell - 2018 Legend EITS, Lorton, Virginia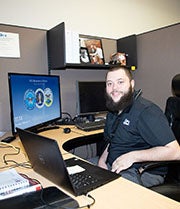 Jeremy was offered a position in environmental services (EVS) with the U.S. Coast Guard because GCE believed he could do the job. At first, it was a struggle to communicate since many of the U.S. Coast Guard personnel were not accustomed to working with the deaf. However, Jeremy's determination and infectious energy quickly dissolved any concerns.

Because of his strong work ethic, Jeremy was asked to consider a unique opportunity with the Department of Defense (DoD) on the GCE information technology (IT) training program contract. The program offered trainees with no prior experience a chance to learn skills and receive hands-on knowledge. This training program meant Jeremy had to move from Florida to Virginia, but he knew it was the big break he had been waiting for his whole career.

Not long after joining the IT program in Virginia, Jeremy started a deaf culture team, one focused on helping people who can hear better understand and communicate with people who are deaf. He began an American Sign Language (ASL) club that meets monthly and teaches ASL to team members. To help further improve relations, Jeremy went on to deliver training to GCE operations on deaf culture and share his story across the U.S. to inspire others. He also shared his experiences with presidential appointees serving on the AbilityOne® Commission and with elected officials in Congress on Capitol Hill.
Jeremy says he's blessed and he wants to give back to others. He routinely checks in with people going through the same IT training experience that he went through. He offers messages of understanding and support as someone who knows the journey. Jeremy lets everyone know that people with disabilities deserve a chance and can not just hold down a job, but be successful.