Ten Tips for Working Remotely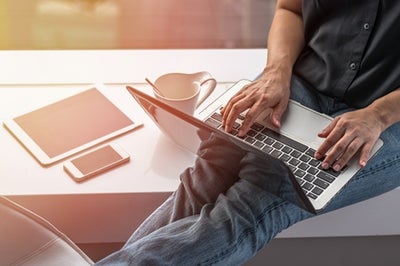 - 4/20/2020
COVID-19 is forcing more people to work from home and believe it or not, some struggle with it. Some people easily adapt to a quiet space where they can knuckle down and do their best work. Others, probably extroverts, feel like fish out of water. They miss physical interactions like breakroom conversations and they may not be fans of solitude and technology. These 10 tips may help you be more productive and feel more at ease in your new environment.
You are adaptable - Your familiar setting and routine may be completely different, but remember, humans are adaptable creatures! Even for the most social among us, with a little discipline, you can master productivity and workflow from home in no time.
Stick to a routine - You may not be going into an office, but a routine is still critical. Prepare the same as if you're driving into the office: shower, dress, eat breakfast, etc. It's important to have a routine and maintain this normalcy.
Create a dedicated workspace - You may not have a separate room to dedicate as an office, but it's important to establish a dedicated workspace. That space should be in an area free of distractions that can help you maintain boundaries between your professional and personal lives.
Communicate - Daily interactions with teammates are critical, but we lose our sense of "sight" when we don't see the person with whom we are communicating. Therefore, give thought to the way you write emails and instant messages. Include detail and context. Point out next steps or key takeaways, but always be aware of your "tone." Make sure it can't be misunderstood. Reread everything before you hit "send."
Utilize video chats - Zoom is a great way to see your team and share information. Using video chat technology can help sustain your office culture of teamwork. Video meetings using technology such as Zoom can often clear up any confusion. Also, make sure to have a regularly scheduled meeting with your team as a way to keep each other in the loop.
Take breaks - Be sure to get up every once in a while to take small breaks. Go for a walk if you can, or just stand up and get a snack. Do some stretches.
Stay organized - Be sure to have a system of organization similar to what you may have had at the office. Organization prevents frustration. Align with your team's system of saving documents on your company server, or if you don't use a server, make sure you have a system on your home computer.
Engage with your team regularly - Be sure to check in on your teammates, say, "good morning," and share news with them. Just because you're working remotely doesn't mean you can't have fun with your coworkers and build meaningful relationships.
Focus on your results and share wins - Make sure you are accomplishing your goals and meeting deadlines. Additionally, it's important to share your accomplishments and wins with the team. It motivates everyone and helps them and you stay focused on achieving goals as a team.
Be honest - Working remotely involves accountability and trust. Honesty from all parties is important. If you don't understand something, ask. If something isn't working, tell your supervisor. If you're struggling with your productivity, be honest with yourself. You're responsible for your own work, and it's critical that you exercise discipline with yourself to get your work done.