Taking Care in 2021 - Reflection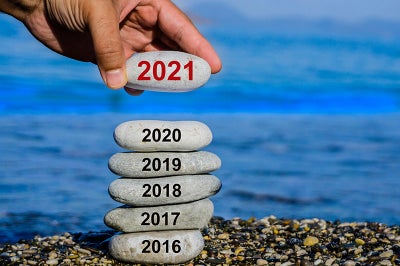 - 1/06/2021
Heather didn't sleep well last year. She experienced moments when she was easily startled and had an upset stomach a lot. She found herself feeling sad more than usual, but she didn't want anyone to know how she felt. Sigma kept her in a "fake it until you make it" mode most of the time. Fortunately, she discovered a way to cope, and she's feeling hopeful about the year ahead.
There are a lot of "Heathers" out there in the world. Last year was unforgiving for everyone. The coronavirus, natural disasters and social unrest weren't the only factors contributing to stress. For instance, Heather's parent was hospitalized for a major illness and surgery. Her dog of 18 years passed away. She relocated from a house she'd lived in for 13 years. She wasn't sure if she'd lose her job due to the pandemic. Those are considered major life-altering events.
When the autumn season arrived, Heather discovered a poem-a-day challenge thorough an online writing group. She decided to participate. The practice prodded her to reflect on a different topic each day, and before she realized it, her mind was no longer consumed with stressful life events.
The practice of reflection is good for the soul. It calms the mind and empowers us to realize our inner resilience. Reflection gives our brains time to pause amid chaos and allows us to untangle our experiences whether they be joyful or distressing. Many people practice reflection by writing, which is how Heather stumbled onto a new, helpful habit.
You can too. Start with a weekly practice by writing one poem each week. No writing rules apply. Just write. Here are some topics to get you started:
Stranger Conversations – Start the first line of your poem with a statement you overheard.
Untouchable – Describe something that is out of reach, literally or figuratively.
Makes Sense – Choose one of the five senses and write a poem that focuses on that sense.
"Part of the battle is not being afraid to try something new," said Heather. "I learned that I am resilient. We all are."
Have fun with the practice of reflection, and perhaps you too will discover a way to navigate 2021 and reap the benefits of enhanced mental health. If you want to talk to someone who can help with anxiety and depression or other mental health struggles, call a reputable behavioral health provider in your area.