Pandemic Silver Lining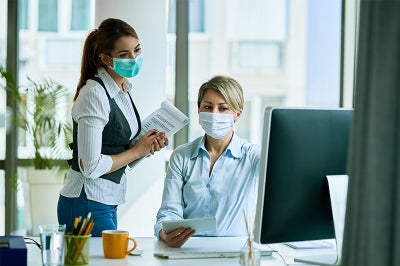 - 5/03/2021
If the past 12 to 18 months has taught us anything it's how to adapt to change. At the onset of the Coronavirus pandemic millions of people quickly shifted to a new way of life. Mental health experts really scrambled to find ways to support treatments for people with mental illness and addiction disorders. The idea of many people suffering in silence was and is a real threat. Telehealth proved to be a silver lining in all the chaos.
"The pandemic prodded mental health therapists to think about new ways to connect with people," said Sweneda McDonald, licensed mental health counselor, Lakeview Center. "Counseling in particular is one of those services that has always been done in-person, and we had to find a way to avoid breaks in treatment plans. Telehealth turned out to be better than we would have imagined."
Telehealth is a technology that has been around for a while, but not broadly deployed until 2020. Access to the technology is broad and available on a variety of platforms such as tablets, laptops and cell phones. Digital technology is designed to be far-reaching, and telehealth opens up a range of services to meet people's needs where they are.
Even a paralyzing pandemic can't stop the need for mental health services. According to a new poll released by the National Council for Behavioral Health, 52% of behavioral health organizations are seeing an increase in the demand for services. Lakeview Center provided more than 88,000 telehealth services in 2020. Pandemic fatigue is settling in and contributing to more people experiencing depression, suicidal ideation, and substance misuse. The need is global and greater than in recent years. The accessibility of telehealth meets that threat with a solution of expanding access to people in need.
"It actually turned out to be better than we initially thought. Telehealth removes barriers and provides a comfortable space for clients to open up."
Accessibility is probably the greatest benefit. People who are geographically isolated, have lack of transportation or childcare, or a disability that prevents them from leaving their home no longer have such barriers thanks to telehealth. For some, the convenience of accessing treatment in the safety and comfort of their home makes all the difference in them reaching out for help. Clinicians also are finding that rapport can be built just as effectively in a virtual setting as it can face-to-face without negative impacts on patients.
"Telehealth has surprised us all. It's been so impactful for so many people that we intend to continue using the platform into the future. We will also provide in-person services, but telehealth is certainly an effective tool as well."