Making an Immeasurable Impact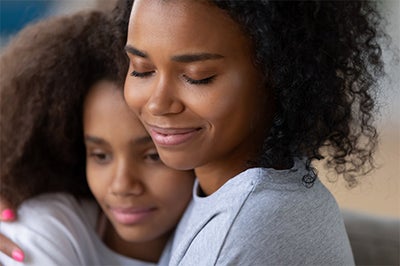 - 5/05/2021
We don't always remember names of people, but we always remember how they made us feel. Such is the case with a woman who grew up in the foster care system. One foster mom in particular made an immeasurable impact on her life, and she can't even recall her name.
"My mom had a lot going on, and I remember going to a couple of places that were not a good fit, but then this one lady got me when I was 4. I don't even remember her name, but I remember feeling safe. It's hard to explain, because I was only 4, but I just remember how good it felt to be eating and to not be scared."
The most important thing to children in the child welfare system is to be placed with foster parents who can provide safety and love. For many children, a foster home is the first safe experience they have had.
If you're interested in becoming a foster parent, here are a few things to know:
Time with a foster family teaches a child that he or she matters.
Foster families help children cope with trauma through earned trust and healthy relationships.
Healthy family bonds set a standard for future relationships children will have in their lives.
A common fear foster parents have is that they won't make an impact. They fear this because they view impact as something tangible that you can measure. Fostering is not like the stock market where you can measure risk and return. It's a loving leap of faith in making a difference in a child's life. The truth is, foster parents make an impact the moment they say yes. They have already committed to and accepted a child or children, before they even meet.
Are you ready to make a difference? If so, log in to a virtual information session to learn how. Training is provided virtually and children are waiting for that special adult who makes them feel safe and special.
You also can call: 850.453.7777.