Interacting with People Who Are Deaf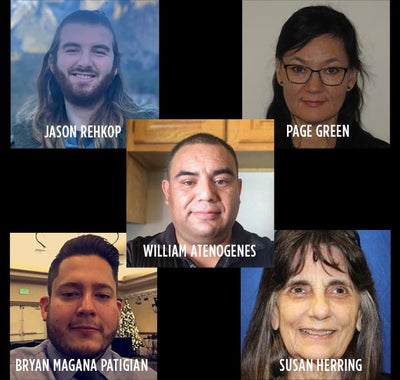 - 3/15/2021
How well can you communicate with Deaf people? March 15 through April 15 is observed as Deaf History Month. It's a great reminder to be aware of and learn how to connect with people who are Deaf or hard of hearing. Global Connections to Employment (GCE) team members share some tips to help us effectively communicate with people who are Deaf or hard of hearing to generate an environment of inclusion, respect and collaboration at work and in the community.
The more inclusive way to reference this group is to say "deaf and hard of hearing" or "deaf" instead of "hearing impaired." This resource is helpful: Deaf and hard of hearing language
When writing about the Deaf community, capitalize the term as it represents a cultural identity.
Ask Deaf people how they prefer to communicate (i.e. interpreter, writing, sign language) and seek out an appropriate accommodation.
When working with an interpreter, it's helpful to give time before a meeting for the interpreter and Deaf participant(s) to work through necessary logistics and set up.
When we get to know Deaf people at work or in our communities, we enhance our own skill sets and learn of the valuable contributions they can make.
Team members share their experience working for an organization that hires people with disabilities, including those who are Deaf:
"When I first came to GCE as a freelance interpreter, during one interaction, a Deaf employee raised his hands to sign. Everyone stopped talking and let him have the floor. I was so moved by the respect and courtesy shown to that person, because I've been in situations where that hasn't been the case. I knew at that moment that GCE was a special company, and I was excited when the opportunity came up for me to work here." – Page Green, GCE Sign Language Interpreter
"Working as a GCE Software Business Analyst at Defense Manpower Data Center (DMDC) is a great experience. Everyone is aware that I am hard of hearing and has shown respect and professionalism when working with me. Every training, daily huddle, and one-to-one interaction has been accommodating. Speakers raise their voices, repeat things, and slow down when I ask. I also have access to an American Sign Language interpreter (ASL) who has been essential to my success at GCE. She has been there when needed at GCE town halls, interviews, daily lineups, and DMDC announcements." – Bryan Magana Patigian, EITS Academy Business Analyst Track, Seaside California
"I have Usher Syndrome, which is a deterioration of both hearing and vision. My job in the scullery at Naval Air Station Pensacola began with the OJT program. The entire GCE team, from leaders to my coworkers, are supportive of me in every way. I cannot read normal print without magnification, so I am unable to read most things posted on the bulletin boards. I am grateful for the extra effort of those who take the time to tell me verbally, make copies for me to take home and read with my CCTV, or send me an email of notices of training, job postings, newsletters, and announcements whenever they are posted." – Susan Herring, GCE scullery team member
"As a Deaf person, my language is American Sign Language (ASL). The term Deaf is like a spectrum of many people's identities and their journeys, which includes finding comfortable and equitable communication. I value communication with people. If ASL is not available, then we can use a notepad or devices with enlarged fonts. These accommodations benefit both Deaf and hearing people." – Jaron Rehkop, software engineer, DMDC Seaside, California
"When I started working with GCE I saw a difference. I was not the only employee with a disability, and I was treated equally as other employees. My performance was evaluated on my hard work and capabilities. After 1 1/2 years working for GCE my operations manager asked me if I would like the opportunity of becoming a supervisor. As a supervisor, I saw the opportunity to implement new and easier ways of communicating especially for those who are deaf. I was able to communicate using Purple Communications (a video relay service or VRS). Other GCE supervisors and operation managers try to try to communicate better by learning American Sign Language (ASL), texting, writing hand written notes or by calling me through the VRS. I am grateful to GCE for all the opportunities that they have provided to me and other people with disabilities." – William Atenogenes, supervisor, MacDill Air Force Base, Tampa, FL
Understanding how to effectively communicate with people who are Deaf or hard of hearing is one more way to be inclusive of others in our communities. If you aren't exchanging knowledge with this population, you could be missing out on the perfect coworker, neighbor or friend.
Jobs for people who are Deaf or hard of hearing can be found by visiting GCE.org.