Choosing to be Kind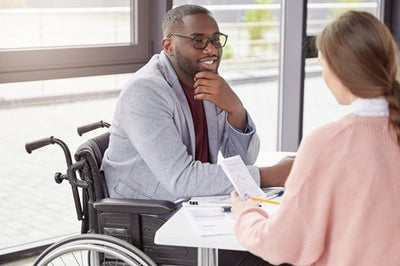 - 7/01/2019
Every day you come in contact with strangers who you know nothing about. For instance, you may cross paths with a person who has a disability and never know it. You may remain unaware of the challenges that person overcomes each day because you can't see their disability.
According to the Americans with Disabilities Act, a person with a disability is a person who:
Has a physical or mental impairment that substantially limits one or more major life activities, (i.e. caring for oneself, walking, seeing, hearing, speaking, breathing, working, performing manual tasks, or learning).
Has a record or history of a substantially limiting physical or mental impairment or is regarded as having a substantially limiting physical or mental impairment
Some examples of disabilities include:
Aids or HIV infection
Asthma
Blindness/Visual Impairment
Cancer
Deaf or Hard of Hearing
PTSD
Cognitive Impairment
Traumatic Brain Injury
Mental/Emotional Illness
These men and women may work in a variety of positions such as IT, finance or other roles. The same holds true for a person battling cancer or HIV.
When you don't know someone's life story, be careful not to judge or assume negative ideas about the person. Interact with compassion. Learn how to respectfully speak with someone who has a disability.
In the end, remember that the power of kindness and understanding goes a long way. Remember the saying: "Be kind, for everyone you meet is fighting a harder battle." Our behavior is a choice — be kind.