Behind the Mask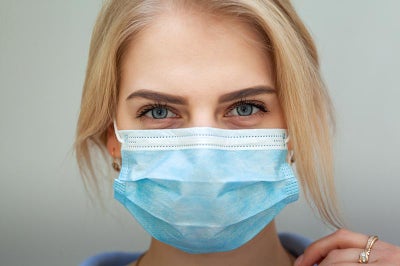 - 5/18/2020
If you had to guess whether or not the woman in this photo was smiling, what would you say?
Wearing a facemask in public is now a normal practice for every day citizens. Even people who don't work in a clinical setting keep a mask handy to wear into grocery stores, gas stations and any of the other few places we venture into in the age of COVID-19.
The masks are uncomfortable, and they hide some of our facial expressions. It's hard to tell what's going on behind the mask, but it might just be possible to tell if you're smiling.
We all know the importance of nonverbal communication. Eye contact and smiling builds trust and encourages discussion. We lose some of those nuances when wearing a face mask, but it's still important to practice them. Subtle cues speak loudly and can tell a listener that we care about what he or she has to say. People feel more comfortable, helpful and willing to collaborate with people who are friendly. Conversely, people hold back when bristled by someone.
The woman's eyes in the image on this page seem eager to hear what you have to say, which would lead you to believe she is smiling. Since wearing a mask is a good safety measure during the COVID-19 pandemic, it's important to make eye contact and smile even though our smiles may be hidden.
Other communication practices that can help.
Ask if the person heard you correctly or if the sound was muffled because of your mask.
Pay attention to your voice tone. A harsh or loud tone might convey insensitivity.
Wear a clear mask when speaking to someone who is deaf or hard of hearing, because the person may need to read lips.
Tell the person with whom you're speaking that you care about what he or she has to say.
Remember the age-old telephone etiquette rule: Smiling during every phone call can naturally improve your voice tone to be more positive and friendly.
In a time of accelerated stress, confusion and anxiety smiling behind our masks can put a lot of people at ease so that we can better help one another.