A Little Assistance Please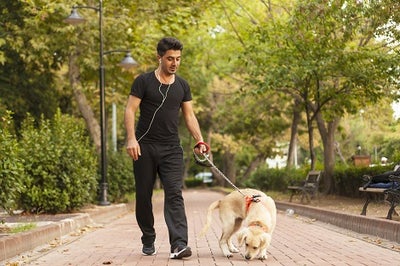 - 7/09/2019
A magical connection can be experienced between canine service animals and their owners. There's no other way to make sense of the acute attention and protective behavior of an assistance dog. It would appear that service dogs have embraced Lakeview Center's Mission of Helping People throughout Life's Journey!
Mental Health America (MHA) made some interesting discoveries about the ways these wonderful creatures are improving our lives.
Diabetic alert dogs improve quality of life because their owners' are less worried about extreme changes in insulin levels.
People who are hearing impaired have been reported to show long-term reductions in depression after getting a service dog.
Veterans with PTSD have reported decreases in depression, social isolation, anxiety, and alcohol abuse while also reporting improved sleep and better coping with flashbacks after being paired with service dogs.
Service dogs have helped people with disabilities to accomplish everyday tasks and alerted them to symptoms of chronic health conditions.
Service dogs can lighten the load of caregivers too.
The difference between service dogs and therapy dogs is the former are specifically trained to perform task-oriented activities, in most cases, for people with disabilities. Nonetheless, pets have proven to be some of our best lifetime companions, and service dogs are no different. They are far more than working animals. They can "talk" to us, retrieve things, play with us and comfort us.
While Lakeview Center is not a service animal provider, we do provide the human-to-human connection for behavioral health services and finding jobs for people with disabilities. If we can help you, reach out to us at 850.469.3500 or visit eLakeviewCenter.org.